This is How You Lose the Time War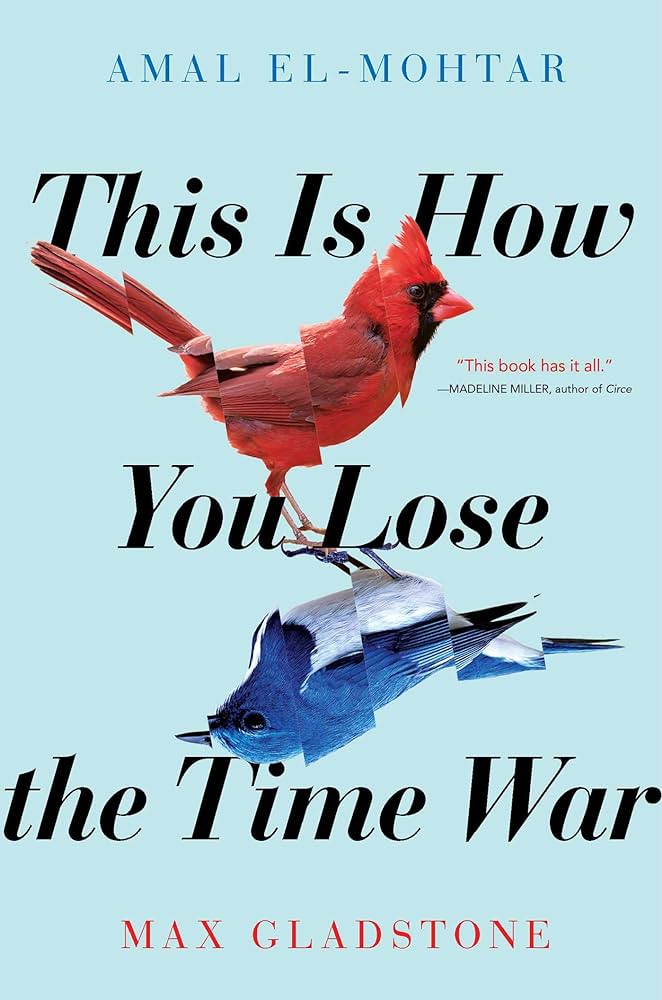 A stylistically beautiful novella reminiscent of Invisible cities by Italo Calvino. Written in an innovative format, this is more poetry than prose. "Time War" was certainly worth my time, but I could see how it may be annoying to some. At least it is mercifully short!
Observations
Well executed slow reveal (Burn Before Reading)

Multiverse composed of multiple forking strands and threads. They have names and numbers. Going "upthread" means back in time, "downthread" into the future.

Beautiful quips like:

"adventure works in any strand. It calls to those who care more for living than for their lives"
"She climbs up thread and down. She braids and unbraids history's hair"

Ridiculously creative way of corresponding with one another. Letters are cleverly encoded in owl pellets (ha gross), seed sacks etc.
Maybe this is deliberate, but who The Seeker is remains unclear. Is it the other agent? Or is it something else, planted by capital-C Chaos?
If the world is a game, Blue and Red play a meta-game. But it feels like there is also a meta-meta game being played, which Blue and Red are only faintly aware of.
Complaints
Blue and Red are agents for two opposing "shifts", led by Garden and Commandant respectively, and representing broadly speaking Nature versus Technology.

Maybe this is somehow the point, but the two narrators/voices of the letters were indistinguishable.

At some point the agents discover that they are madly in love with one another. But the letters are more clever than revelatory, and neither character arc well-defined.

Why did the agents actually fall in love? Pretty unclear.

(On the other hand, the same kinds of complaints can be leveled at Calvino, and that would not be fair.)
Associations
Travel Light by Naomi Mitchison is lauded as "it's the same in all strands in which it exists"
The classic Rolling Stones song Sympathy for the Devil came up for me multiple times while reading.
And I was 'round when Jesus Christ
Had his moment of doubt and pain
Made damn sure that Pilate
Washed his hands and sealed his fate


Stuck around St. Petersburg
When I saw it was a time for a change
Killed Tsar and his ministers
Anastasia screamed in vain