Site redesign, version five
It's been over three years since the design of this site has been updated. Time to change that!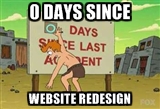 This is the fifth revision of this site's design. Looking over previous designs, I've been happier with minimal designs, especially this one from 2012. I was inspired by many excellent designs such as Butterick's Practical Typography, Teehan+Lax, Erik Johansson, Medium and Frank Chimero.
The new design is visually cleaner. I use flexbox in many places, which makes the CSS far more intuitive. The responsive parts are very simple, consisting of just ten CSS declarations.
Continued →